Alaska
June 26 -- Anchorage

We left SFO on a United 757 non-stop to Anchorage. Christopher sat by the window and saw Mount Lassen, as well as Astoria, Oregon and its bridge. He really got a kick because he has been to both of them.
We landed at Ted Stevens Airport about 10:00 pm and the sun was still up! There was a lot of activity at the airport with people coming and going even at that late hour. We took a taxi to our RV and found the key they had left for us, climbed in and went to bed (with the sun still up!).
June 27 -- Willow

We woke up and Julie and Brian went to get checked on the RV while Patrick and Christopher watched TV. Our RV rental company,
Great Alaskan Holidays
, was great. They had everything we needed in the RV and it was all included in one price.
We headed out on our way to our adventure in the last great frontier. But first, breakfast at IHOP and shopping for supplies at Safeway. Finally we were on our way. The road heading north from Anchorage is a regular freeway for the first few miles, but the views are unlike any other. Large, craggy peaks, with traces of snow surround the area.
When we were in Wasilla we left the highway and went to visit the Iditarod Race Committee Headquarters. This combination museum/gift store was worth the stop. But the highlight was getting a ride on a wheeled dogsled. There were about 16 dogs that pulled the four of us with our musher around a short course. Our musher was the son of Remington, the "father of the Iditarod". (Patrick said this made our musher the "Brother of the Iditarod".)
Summer Mushing

We pulled in to the Pioneer Lodge in Willow at about 3:00pm. This small RV park is on the south bank of Willow Creek, a river teaming with king salmon. You could look in the river and sometimes see 15 or 20 of them heading up stream. Our visit coincided with the opening of the three-day fishing period on this stretch of river. We loved watching these fishermen land (and attempt to land) these fish that weighed up to 40 pounds. The best part was when our next store neighbors brought over some baked salmon that they had caught in the morning, but could not finish. We made sure it didn't go to waste.
June 28 – Denali National Park
We got up this morning and got underway by 10:00. As we drove north we kept our eyes open to catch a glimpse of Mount McKinley. The day was overcast and we thought that we saw it faintly in the distance, but we cannot be sure.
Along the way we spotted a reindeer. On closer inspection it had a harness and was staked to the ground in front of an very odd place called Wal*Mikes. Here was a combination roadside attraction and junk store run by a character that would not stop talking. It was a trip.
Wal*Mikes parking lot

We pulled over for lunch in Denali State Park at a viewpoint that was supposed to have a great view. We saw clouds! We continued on towards Broad Pass. This pass had sparse vegetation and was surrounded by peaks. We saw a train of the Alaskan Railroad carrying tourist north, an interesting way to travel.
As we drove north the clouds were replaced with smoke. The closer we got to Denali National Park, the smokier it got. We got to the park and headed to the Visitors Center. From there we went on a 3-mile hike to Horseshoe Lake. I would have been beautiful if the air were not filled with smoke.
After the hike we picked up our tickets for Tuesdays Wilderness and Tundra Tour. It was then we found out that the fire was in Chicken AK, about 150 miles away. After leaving the park we drove to our campground for the next two nights, the
Grizzly Bear Campground
. Our site was on a bluff overlooking the Nenana River. This was the only RV park that we stayed in that seemed like a campground rather that a parking lot.
June 29– Denali National Park
We got up real early for our
Denali Tundra and Wildlife tour
. When I say early, I mean early because we had to be across the road at 5:30 am. We got breakfast and began our tour. We were the only ones on the bus who were not part of a ship tour.
Our driver/narrator Cliff had been doing this for 13 seasons and he never saw smoke like we had today. If you went on this tour to see mountains, forget it. We did see wildlife however. Early on we saw a Hoary Marmot and a Ptarmigan (the Alaska state bird). We then spotted a grizzly bear, almost blond in color, going trough the bushes about 200 feet away. Awhile later we spotted Dall Sheep high up on a rock hillside. The highlight was at mile 53, our turnaround. Up on the hillside we saw three caribou, two males and a female. We kept watching as they walked down towards us. They finally passed about 100 feet from us on their way to drink and graze in the river. The antlers on one of the bulls were enormous. Quite a highlight. We got lucky with the wildlife because the views were non-existent because of the smoke.
Patrick, Christopher and three of their wild friends

Christopher picked up a bug bite on his lip sometime during the day. His lip kept getting bigger and bigger. Julie finally decided that we should get someone to look at it and we unhooked and drove to the nearest "medical center" in Healy, about 20 miles away. The center was upstairs in the Community Center, combination fire station, courthouse, and lions club. The guy behind the counter said, "Just give him some benadryl (which he sold to use for $5.00 cash). Right out of Northern Exposure!
June 30--Hope
We decided to change our plans, as the fires were getting worse up north. We headed south towards the Kenai Peninsula. We drove about 350 miles to a little town called Hope. Driving in we saw a female moose walking along the edge of the road.
This town is an old gold mining town from the 1890's. Julie has a friend who spends some time there every summer. This town had real character. Small log cabins, a café and bar, and a single retail store selling hand crafted jewelry—that was it. The
Seaview RV park
was in front of the bar and had a beautiful view of Turnagain Arm. If you ever saw the TV show Northern Exposure, this was it.
July 1, 2004 -- Seward

Today we drove down towards Seward. After getting a slot at
Bear Creek RV Park
, we went to see the Exit Glacier. This glacier flow from the Harding Icefield (Christopher thought that the ice field should have an ice sculpture of President Harding.) We hiked about a mile to the edge glacier and could clearly see what a glacier does to the underlying rock. This glacier, like all of the others in Alaska, has been receding. Makes you really think about he effects of global warming.
After the Exit Glacier we drove in to Seward and found a much-needed laundromat. While Julie waited for the laundry to finish, Brian and the boys went to look for a glacier cruise to take tomorrow. They found one, as well as a Segway rental place—more fun tomorrow!
July 2 -- Seward
After the kids enjoyed a couple of hours of morning TV (the RV park had cable hookups), we headed in to Seward. Seward is a town of about 4,000 residents that sees 70 cruise ships every year. It was nearly destroyed in the 1964 earthquake when a 75-foot tsunami swept over it.
Patrick and Brian headed for the guy who rented Segways. The price was reasonable, $15 for a 20-minute tour. There was another couple that were going to do it with us. Brian played his cards right and tried it first. This meant that while the others were getting checked out he was able to practice (i.e. more riding time). Riding it at first takes a little thought because it is very different, but shortly you adapt and are able to do it very naturally. We finally all got going and had a nice ride down the bike path that lines the harbor front.
We had booked the 6-hour, 110 miles
National Park Dinner Cruise through Kenai Fjords Cruises
. There were about a 100 passengers on a boat that held 150, so there was plenty of space to move around. We felt that it was a good sign when we saw our first wildlife, a Bald Eagle, on a harbor piling as we left the harbor. Shortly after we ran into what would be the first of many pods of Orcas. The abundance and diversity of the wildlife and sea life was a little overwhelming. We also saw puffins, a mountain goat, sea otters, Dall Porpoises, Fin Whales (the second largest mammal in the world), sea lions, and lots more Orcas.
Us in front of Aialik Glacier

The turnaround point for our trip was the Aialik Glacier. This emends tidewater glacier has a face 1.3 miles wide. After working his way through the floating ice, the captain positioned us about a half a mile off the glacier and turned of the engines. A calving glacier can be a noisy thing as it sheds ice from its face. We watched as large chunks of ice fell 200 to 300 feet and crashed into the water. Then a huge section, perhaps 200 yards wide, let loose with loud cracks and bangs. It hit the water and created a wave that was still about 6 feet high when it hit our boat. The captain said that was the largest calving he had seen this year. It was a spectacular trip, we even saw a bit of sun as we pulled back into Seward.
July 3 -- Homer

Today we pulled up and left Seward for Homer. The kids were looking forward to going to Homer because of the name (Doh!). They especially found it funny when they found out that we would be staying on the Homer Spit. Too much Simpsons?
The drive was beautiful one. We after retracing part of our route from a couple of days ago we headed down the Kenai. When we got to the Kenai River its beauty floored us. The color was an aquamarine blue, flowing through a verdant green forest. Unbelievable!
We were stopped for a while when the road was closed because of an accident. We decided that if you are going to be stopped in traffic and RV is the best way to do it. Julie and Patrick played cards while Christopher layer on the bed in back and looked at the view.
A few miles before reaching Homer the road goes through Anchor Point. This was interesting (at least to Brian) because it is the farthest west you can drive in North America. We didn't make it to the Arctic Circle, but we did figure out another box to check off.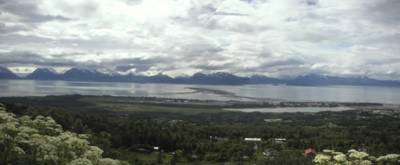 Homer

We arrived in Homer with a light rain falling. Our first choice was full so we headed to the end of the Homer Spit. A funky beach community (The Coney Island of Alaska) and a narrow sand and gravel bar reaching into the bay. Snow-capped peaks surround the town. Tomorrow we explore Homer.
July 4th --Homer

We took our time getting going in the morning as the kids found out that there were a couple of TV cannels that we could get on regular TV. The first thing that we did when we got going was head to the overlook high above the town. The views were spectacular across the bay. You could see a couple of large glaciers winding their way down rugged valleys. The snow capped peaks of green mountains that ran down to the blue/gray waters of the bay.
We then headed to the downtown district and its art galleries and gift stores. We set the kids up in the RV. Brian found a WiFi connection (from the library across the street?) so Patrick was able to surf for info about Lance Armstrong in the Tour de France. Christopher was watching a DVD, and Brian and Julie made a break for it to go shopping. It was then back to the RV park and down to the water. The tides here are enormous; typically there is 25 feet between high and low tides. The whole shoreline changes dramatically every 6 hours.
As we were buying some stuff in one of the stores we asked for recommendations for a dinner spot. There are several restaurants in town and on The Spit. We decided to go to one called Fat Olives. What a find! This restaurant could compete with any in San Francisco. An appetizer of smoked salmon and marscapone brushetta, followed by a seafood bisque for Julie and a ceaser salad for Brian. We shred our main courses; alder wood cooked red salmon topped with sautéed rock shrimp and risotto, and buffalo tenderloin wrapped with goat cheese and prosciutto with asiago polenta.
We followed up with a beer at The Salty Dawg. This is a funky old place that attracts all sorts; fishermen, locals, and tourist. It is a low building with a lighthouse on the side. When you go in the walls and ceilings are covered with one-dollar bills that people have written on and stuck up with thumbtacks. We left our mark as well.
The Salty Dawg Saloon

Homer is one of those towns that we would like to come back to. Far off the beaten track there are not boat loads of tourist like Seward. The views are phenomenal and the people are friendly. This seems to be a place that Alaskans come to to relax, fish, and just enjoy the water. It gave us another Fourth of July that we will not forget.
July 5th – Cooper Landing
We woke up this morning realizing that we were quickly nearing the end of our vacation. Today would be an easy drive to the middle of the Kenai Peninsula where we would spend two nights. The day started off on a good note, as the skies were bright and sunny.
Leaving town we stopped at the viewpoint at the edge of town and were blown away (yet again) by the views. Looking across the Cook Inlet we could see three volcanoes capped in snow. We continued driving with the lunchtime goal of Ninilchik.
The village is very small with just one small shop. There is a narrow path that goes up the hillside. At the top there is a Russian Orthodox church and cemetery that was built at the turn of the century. We had bought a print of it in Homer so we had to see the real thing. On the way back down the trail we stopped to talk with a woman who was working on her yard. She and her husband live in Anchorage and had just bought the house as a getaway and vacation rental. It was appropriate that she was a Russian from Vladivastok.
We pulled into the Kenai Princess and got our spot. Eating leftovers for dinner and looking forward to the hot tub tonight! Tomorrow? Who knows what we will do.
July 6th – Cooper Landing
Today was a lazy last day in Alaska. We took a hike through the forest and down to the Kenai River, ate a lunch of whatever we had left in the RV. This was followed by an afternoon of shuffleboard and hot tubing. Then we spent about three hours on the deck eating, drinking, and looking at the Kenai River. It was a full day.